The mystery surrounding reports of "giant skeletons" has always intrigued and fascinated me. Specifically, how it seemed to be a common ocurrence that human-like bone remains, often of giant proportions, were known for popping up everywhere in the mid-to-late 1800s, as featured in reports like these:

During an 1879 excavation of an Indian mound near Brewersville, Indiana, a nine-foot eight inch skeleton was found buried within.

Around the same time, George W. Hill, M.D., also unearthed a skeleton said to be "of unusual size" while excavating a mound in Ashland County, Ohio.

In 1880, American Antiquarian, volume three, reported that a Doctor Everhart allegedly found another large skeleton "reported to have been of enormous dimensions" in a strange clay coffin along with a sandstone slab marked with unidentified hieroglyphics near Zanesville Ohio.

In 1881 in Medina County, Ohio, a succession of nine bodies were found below the cellar of a house, buried as though the corpses had been "dumped into a ditch." Albert Harris, one of the residents, was twenty years old at the time of the grave's discovery, and removing one of the large skeletons, said that he could literally fit the piece over his entire head and allow it to rest on his shoulders like a large helmet, even while wearing a cap underneath!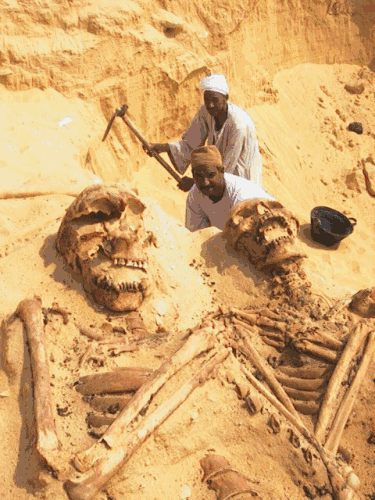 Skeleton of a Giant (Nephilim) Found in Arabian Desert